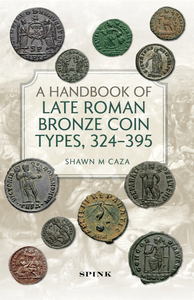 SPINK | BOOKS
A Handbook of Late Roman Bronze Coin Types, 324 – 395, by Caza, Shawn M
Regular price
£65.00
£0.00
Unit price
per
Tax included.
Shipping
calculated at checkout.
Hardback, with colour illustrations throughout
352 pages
216 x 138mm
RRP: £50
ISBN: 978-1-912667-61-1 
With more than 260 illustrations, and catalogue entries for each bronze reverse type struck from AD 324 to 395, this catalogue gives detailed information about the late Roman bronze coinage systems, with each entry including details on dates, mints, personalities, weight standard, important variations and the history and meaning of the legend and design. 
Extensive introductory notes in the first chapter discuss the life-cycle of late Roman bronze coins (manufacture, circulation, loss and the effects of burial) as well as their weight, fineness standards and contemporary value.  The introductory sections of the subsequent chapters, each of which is dedicated to a short time period, cover the history of that period and the metrology (weight, size and metallic composition), overall pattern, and mint and field marks of the coinage of those years.
It is the first detailed examination of the coinage of this period by reverse design, providing different insights from those gained through an examination of the coinage by Mint or by emperor, and incorporates the latest numismatic scholarship, plus extensive footnotes and bibliography. 
The indexed and cross-referenced catalogue entries will be of interest to collectors, cataloguers and researchers, with historical and metrological discussions appealing to scholars, numismatists and students alike, the focus on reverse types providing scholars working with hoards or site finds with much greater insight into dates and other aspects of the coinage than by simply identifying the emperor.
"A Handbook of Late Roman Bronze Coin Types by Shawn Caza is a masterpiece. It is one of those books that will re-shape the way people collect, just as Roman Coins and their values did 60 years ago … As numismatists, we spend most of our lives working inside other people' matrices. Without them we would be mere keepers of lists. Every now and again someone provides us with a new matrix and we see everything from a fresh perspective. Harold Mattingly and David Sear did it - now Shawn Caza has done it too." James Lamb, former Head of Coin Auctions, Christie's International
---
Share this Product
---