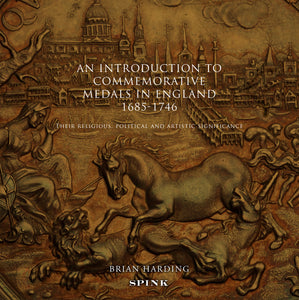 SPINK | BOOKS
An Introduction to Commemorative Medals in England 1685-1746 2nd Edition by Harding, B.
Regular price
£20.00
Sale price
£25.00
Unit price
per
Tax included.
Shipping
calculated at checkout.
An Introduction to Commemorative Medals in England 1685-1746: their religious, political and artistic significance
88pp, paperback, colour illustrations throughout
The year 1685 saw the beginning of a turbulent period in English history: King James II was expelled from Britain; there were wars in Ireland and on the Continent; repeated attempts by the Jacobite party in exile to regain the throne of England; and, underlying everything, severe religious dissension between Catholics and Protestants.  All these events were eminently suitable for medallic commemoration.

Coincidentally, a new generation of engravers, some of exceptional ability and Dutch origin, had recently emerged.  This was important because the engraving of steel punches and dies was done by hand and obviously required outstanding skills.  Only rudimentary furnaces were available and critical judgements with respect to temperatures, timing and striking all had to be made by the engraver.  Despite this, many medals of outstanding accuracy and beauty were produced.
All parties to the various disputes, principally the maritime powers (England and Holland), France and the Jacobite party in exile swiftly became aware of the propaganda potential of these medals.  They exercised control via the provision of funding and, or, the specification of content.  65 of these medals are illustrated in this book to demonstrate the high artistic standard achieved and the extent to which some of the messages conveyed were biased by political considerations, even to the point of falsehood or absurdity.
This updated and enhanced edition of Brian Harding's 2011 book is a must for anyone interested in learning about British medallic history.
About the author:
Dr Harding first became interested in numismatics at the age of six, when he was evacuated from London at the beginning of the Second World War, and given a bag of late 17
th
century crowns and half crowns to play with by the jeweller he went to live with.  This kind act sparked a lifelong interest in numismatics which has recently centred on late 17
th
and early 18
th
century commemorative medals.
After five years in the RAF and RAFVR and a spell in the engineering industry he worked for many years as an engineering analyst in the City and taught post-graduate students at Warwick University, where he held a Teaching Fellowship.
---
Share this Product
---