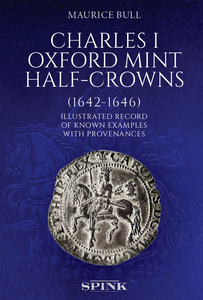 SPINK | BOOKS
Charles I Oxford Mint Half-Crowns (1642-1646) | Maurice Bull
Regular price
£100.00
£0.00
Unit price
per
Tax included.
Shipping
calculated at checkout.
This publication is the culmination of a lifetime's work collecting, studying, and recording full details of the Half-crown denomination struck at the Oxford Mint, 1642-1646, the largest of all the King's Provincial Mints during the Civil War of England (1642-1649). The Half-crown was the most important denomination required during the Civil War since it was the daily rate of pay for a Royalist cavalier, and useful to pay other ranks accordingly. It is worth pointing out that the Parliamentary cavalier only received two shillings per day.
It is also a record of all the surviving specimens known to the author in 2023 (though no doubt more are certain to come to light in due course).  In addition to every example being illustrated, the provenance of each one is also recorded. This has the benefit of showing the numbers of each variety, still extant, and the grades of each one. The coins were struck by the contemporary method of a hammer, and demonstrate the skills of the moneyers working under pressure to convert donations of silverware and bullion into coins to support the Royal cause.  As with all Provincial Mints of this period, except possibly Shrewsbury, no records exist of the actual value of coins struck.
That so many varieties of all the Provincial coins still exist today is mainly due to their fascination and desirability with contemporary collectors and recently discovered hoards.
---
Share this Product
---