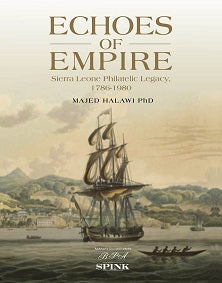 SPINK | BOOKS
Echoes of Empire by Majed Halawi
Regular price
£60.00
£0.00
Unit price
per
Tax included.
Shipping
calculated at checkout.
Echoes of Empire 

Sierra Leone Philatelic Legacy, 1786-1980 
Majed Halawi PhD  
Published in association with the BPA 
Winner of the large gold and reserve grand award at the Great American Stamp Show 2021 and the Grand Prix Award for Literature at Capex22 
Hardback in two clothbound volumes, with slipcase 
280 x 216mm 
919 pages 
RRP £60 
ISBN: 978-1-907427-96-1 
A little short of two and a half centuries ago, the Province of Freedom was founded on the shores of what would on 27 April 1961 become an independent Sierra Leone. In the years leading up to independence, the settlement was absorbed into the orbit of the British Empire and followed a trajectory not unlike so many other colonial dominions. 
Echoes of Empire provides a glimpse of major events in the history of Sierra Leone through a presentation of its stamps and postal history from inception through the early 1980s. It places the country's philatelic legacy within the historical context of the times and attempts to integrate it into the prevailing cultural, social, and political narrative. In so doing, the book draws upon what could undoubtedly be considered as one of the finest collections of Sierra Leone philatelic material ever assembled. 
This volume is an essential addition to the libraries of all who have an interest in social philately. Building on earlier works on Sierra Leone's postal history, Echoes of Empire offers detailed information, new interpretations, and illustrations spanning the entire period under study, which are indispensable to keen observers including the Sierra Leone and British Empire collectors, art historians, auction houses, and research libraries. 
"Sets a new standard for works encompassing any of the former colonies of the British Empire … stunningly designed and presents, in full colour, a gorgeously-illustrated narrative covering the stamps, their genesis and usages … The scope and magnitude of Echoes of Empire defy adequate description … A labour of love which inevitably will serve as a model for future studies of colonial philately." Kevin Lowther, Cameo Journal. 
---
Share this Product
---