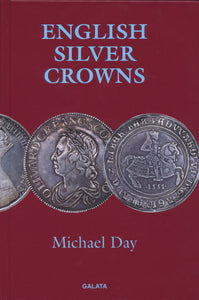 SPINK | BOOKS
English Silver Crowns by Michael Day
Regular price
£40.00
£0.00
Unit price
per
Tax included.
Shipping
calculated at checkout.
English Silver Crowns by Michael Day

Michael Day, edited by Paul and Bente Withers, with a foreword by Graham Dyer, OBE, FSA, Senior Research Curator of the Royal Mint Museum.  Published by Galata Print Ltd.
ISBN 978-1-908715-11-1
Hardback. Size 156 x 234mm (6 x 9.25 inches approx.) 228 pages.
Illustrated throughout in colour with photography by the author and Paul & Bente Withers.  Extensively and carefully indexed, and for the academic, five pages of footnotes.
The English silver crown has a long history, beginning in 1551.  Its many varieties have already been well catalogued,  so what makes this new book different enough to warrant buying it?

This book is different because it focuses not on the manifold varieties, but on the history of the coin, its production, its engravers, and the times in which the coin was produced, starting from the first in 1551, until the present day.
The personality and education of each monarch, the working and politics of the Royal Mint, and the political, economic and social changes in the country are all discussed.  Although it is difficult to measure inflation over a period of more than 450 years, that has been attempted, based on published contemporary prices and wages.

Methods of manufacture are discussed, as well as the mechanics of calling in the debased coins by Thomas Gresham, and of replacing them with fine coins. The personalities of people such as some of the best-known names in numismatic art, including Thomas Simon, the brilliant but importunate Benedetto Pistrucci, and the even more brilliant and hard-working William Wyon. The collector of modern issues has not been ignored either, as he has been in most publications since the 1950s.  All has been carefully looked into, including such details as the identity of the model who sat in for the queen for the coronation crown.  This is a very detailed book.
---
Share this Product
---