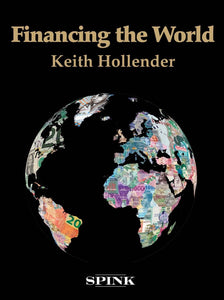 SPINK | BOOKS
Financing The World by Hollender, K.
Regular price
£25.00
£0.00
Unit price
per
Tax included.
Shipping
calculated at checkout.
Hardback, 176 pages with colour illustrations, casebound. 
ISBN: 978-1-907427-74-9 
The third book by Keith Hollender on financial history, Financing the World focuses on the events and entrepreneurs that shaped the world of finance we know today.  It describes the period of initial industrialisation and the regular stock market crashes that accompanied it, in a concise and interesting style aimed at both the novice and the expert.  Tales of financial skulduggery, innovation and the people behind it all are lucidly and amusingly set out.  
It covers the time when superbly printed bonds and share certificates were the norm and, as such, have become collectors' items – sections on how to build a collection, many signed by the famous and infamous, are included.
There are few books covering financial history from the perspective of the essential paper used to raise funds for some of the greatest projects affecting our lives today: the building of the railways, mining, financing of the American Civil War and the rebuilding of Germany after the Second World War, which are most clearly portrayed through the paper issued to fund them. 
Financing the World is a fine history of the development of international finance, demonstrating that little is new and much can be learned from the past – essential reading for today's financier and collectors at large.
See featured article by Keith Hollender in the 2018 Issue 1 of the PLSA magazine (pp 26 and 27) https://www.plsa.co.uk/Viewpoint/Current-issue/2018/Spring/Read-Viewpoint-online
About the author:
Keith Hollender has been fascinated by old bonds and shares since his time as a banker in the City of London.  He had a varied business career, most recently working as a Director in the pensions industry and prior to that as a Managing Director at both Experian and Aon, developing the Unclaimed Assets Register which enabled people to locate lost assets.  He held managerial positions in banking and the automotive industry, and was employed at a consultant during the Chinese and Russian bond settlements in the late 1980s.  His previous two books on bonds and shares have become the established entry texts for those interested in collecting.  
---
Share this Product
---