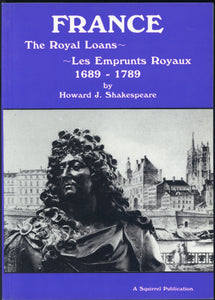 SPINK | BOOKS
France The Royal Loans Les Emprunts Royaux 1689 - 1789 by Shakespeare, H.
Regular price
£3.00
£0.00
Unit price
per
Tax included.
Shipping
calculated at checkout.
Written in English and French. Paperback, 174 pages, illustrated with black and white photographs throughout. 
Published by Squirrel Publishing
Everyone knows of the splendour of Versailles, a symbol perhaps of the opulence of the 'Ancien Regime'. Where did the money come from to maintain the court and the Royal Government, and to meet all their colossal expenses, both military and civil? Naturally taxation played a part but this was anticipated and supplemented by the raising of loans, at home and abroad. Many of these loan documents still exist and this book is offered as a catalogue of these impressive and fascinating documents. In addition there is full information on how they were issued and repaid, how interest was paid, how they were manipulated in terms of crisis, what happened before 1689 and after 1789, and much more. The loans raised by the Compaigne des Indes and the Tresor Royal are included as well as the better known material raised though the Paris City Hall. 
The catalogue, 174 pages, which is in both English and French, contains plenty of vivid and varied background information on this colourful period. 
---
Share this Product
---