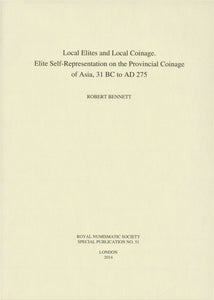 SPINK | BOOKS
Local Elites and Local Coinage: Elite Self-Representation on the Provincial Coinage of Asia 31 BC - AD 275 by Bennett, Robert RNS SP51
Regular price
£50.00
£0.00
Unit price
per
Tax included.
Shipping
calculated at checkout.
Local Elites and Local Coinage: Elite Self-Representation on the Provincial Coinage of Asia 31 BC - AD 275 by Bennett, Robert RNS SP51
Hardback with dust jacket, 178 pages, 31 plates
In this book the author examines the role and representation of the provincial elites in the production and distribution of the abundant local coinages of the Province of Asia in the Roman imperial period. It includes discussion of local magistracies in general, their antecedents, the various formulae whereby eponyms signed their coinages, and the relationship of iconography to eponyms, denomination and 'monumentality'. A wealth of case-studies includes detailed discussion of the important mints of Thyateria and Laodikeia on the Lykos, and full type-catalogues of their Roman Provincial output.
---
Share this Product
---