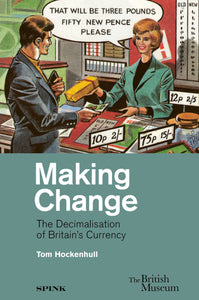 SPINK | BOOKS
Making Change: The Decimalisation of Britain's Currency
Regular price
£15.00
£0.00
Unit price
per
Tax included.
Shipping
calculated at checkout.
Hardback
W135mm x L204mm
W 0.26kg
80 Pages
RRP: £15
ISBN: 9781912667574
On a grey, drizzly Monday, 15 February 1971, Britain went decimal.  Ten years in the planning, 'D-Day' upended a currency system that had been unchanged for more than a millennium.
A national effort requiring cooperation at every level of society, many expected decimalisation to be a disaster.  This is the story of its planning and implementation, of the successes and setbacks.  It reveals the social and political forces that steered the biggest reform to sterling in its history.
Featuring exclusive interviews and profiles of the people involved – from politicians to coin designers, from royalty to checkout staff in Woolworths – this entertaining book helps shed light on Britain's troublesome relationship with change.
---
Share this Product
---