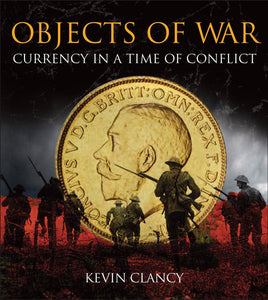 SPINK | BOOKS
Objects of War: Currency in a Time of Conflict by Kevin Clancy
Regular price
£20.00
£0.00
Unit price
per
Tax included.
Shipping
calculated at checkout.
Objects of War: Currency in a Time of Conflict
by Kevin Clancy
Published in association with the Royal Mint Museum
Softcover, colour illustrations throughout
136 pages
ISBN: 978-1-907427-90-9 

War has shaped currencies, creating, abolishing and moulding them.  By providing the means through which they have been fought, coins and banknotes have proved themselves an indispensable weapon of war.  But the disruption that comes with conflict has seen usage of money change to cope with extreme circumstances.  Coins have frequently been debased or often buried in hoards as an army advances, they have found themselves saving lives on a battlefield or becoming objects of sentiment as a memory of home.  As symbols of state, money has offered the means through which victorious leaders have proclaimed their triumphs, evidenced from Roman Emperors through to the more poignant modern ways in which commemoration predominates. 
In this new book Kevin Clancy, Director of the Royal Mint Museum, seeks to explore these themes, revealing how something which thrives on stability can adapt when the normal rules of life are turned upside down.  Richly illustrated throughout, the book focuses principally on the experience in Britain from Tudor times but draws on other instances from across the globe and across time to show how money and war have collided and influenced one another. 
It is a fascinating story that will be as engaging to those with an interest in military history as much as to those of us with more than a passing interest in money.
---
Share this Product
---