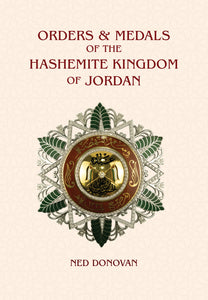 SPINK | BOOKS
Orders & Medals of the Hashemite Kingdom of Jordan (downloadable PDF)
Regular price
£27.00
£0.00
Unit price
per
Tax included.
Shipping
calculated at checkout.
This book is the first substantial work in the English language on the orders, decorations and medals of the Hashemite Kingdom of Jordan. Compiled with the gracious permission of His Majesty King Abdullah II bin Al-Hussein, the book utilises the Royal Hashemite Court archives, records of the British Government and many sources only available in Arabic. Much of the information contained within the book has either not been published or never translated into English. It also features new photographs of almost every national award, taken specifically for this volume.

The book helps bring into the public eye the many remarkable stories and people behind the success of Jordan as it enters its second centenary. Together, these sources have helped create the first definitive and authorised history of Jordan's honours system that can trace its history to the Great Arab Revolt launched by the Hashemite Dynasty in 1916.

NED DONOVAN was for several years a newspaper journalist in London and the USA before serving as a foreign correspondent in India and Asia. In 2017, he was nominated for the British Press Awards Young Journalist of the Year. He is now a writer and consultant, having assisted several national governments and large companies on communications and historical matters. He lives in London with his wife, Raiyah, and also spends a significant amount of time in Jordan where he is known as Faris and where he studied at the Qasid Institute in Amman. In addition to being a Member of the Orders and Medals Research Society, he is a Member of the Chartered Institute of Journalists, a Fellow of the Royal Asiatic Society and a Trustee of the Anglo-Jordanian Society.

The image pictured on the front cover of the book is the star of the First Class with Brilliants of the Supreme Order of the Renaissance.

---
Share this Product
---