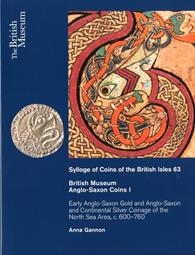 SPINK | BOOKS
SCBI 63. British Museum Anglo-Saxon Coins I by Gannon, A.
Regular price
£50.00
£0.00
Unit price
per
Tax included.
Shipping
calculated at checkout.
Sylloge of Coins of the British Isles. British Museum Anglo-Saxon Coins I. Early Anglo-Saxon Gold and Anglo-Saxon and Continental Silver Coinage of the North Sea Area, c. 600-760 by Gannon, A.
Hardcover, 136 pages, 37 black and white plates.
This volume is dedicated to the British Museum�s collection of early Anglo-Saxon gold coinage as well as the Anglo-Saxon and Continental silver coinage of the North Sea area, dating from the early seventh to the mid-eighth centuries. This was the coinage which circulated during the age of Sutton Hoo, the Lindesfarne Gospels and Bede, and which is widely celebrated for its historical significance and artistic accomplishment. Both these features are well illustrated in this volume by more than 850 coins, which together form one of the largest, oldest and most representative collections of this complex coinage.

This new catalogue includes comprehensive coverage of all new acquisitions, among them material from several significant hoards, as well as full details on the provenance and identification of individual coins. A major introduction sets the coins in context and reassesses their classification. New metallurgical analyses of the gold coinage and authoritative interpretation of the results, as well as a survey of the history of the collection, constitute further valuable supplements to the catalogue.
---
Share this Product
---