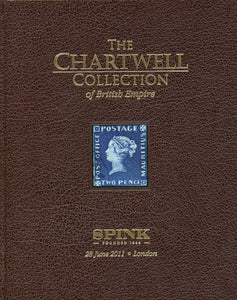 SPINK | BOOKS
The Chartwell Collection of British Empire Vol 1 - 28 June 2011 Spink London
Regular price
£5.00
£0.00
Unit price
per
Tax included.
Shipping
calculated at checkout.
The Chartwell Collection of British Empire Vol I - 28 June 2011 Spink London
Hardbound,embossed in gold, fully illustrated in colour throughout. An essential reference work for all collectors and philatelic enthusiasts. 
Individual Volume: £5
8 Volume Set: £25 (Volume 4 out of stock) 
 The British Empire Collection is made up of great rarities of Bermuda, Mauritius, Virgin Islands and to a lesser extent Canada, New Zealand and Turks Island.
The Bermuda portion contains three Perots, two on covers Ex Sir Henry Tucker and the off cover example Ex Claude Cartier. Also from the Tucker Collection is the extraordinary 1874 3d on 1d rosered mint block of four.
The Mauritius comprises of a large range of imperforate stamps with important multiples, including one of the crown jewels of the British Empire, a superb used example of the 2d blue Post Office Mauritius acquired for the Collection in 1972.
The Virgin Islands Collection contains a fine example of the famous "Missing Virgin" Ex Donne Collection acquired in the early 1970s.
Press Release, June 2011 
Spink is honoured to announce a very special series of sales to look forward to. Over the next 18 months, through a series of 9 auctions, Spink will sell the most valuable collection of stamps ever to come up for auction in modern times. The Chartwell Collection, formed by the custodian of the collection Sir Cyril Humphrey Cripps, consists of some of the finest material for Great Britain and the British Empire ever seen before and it is all material that is fresh to the marketplace. Currently held in just over 80 stamp albums, The Chartwell Collection is estimated to fetch well in excess of £20,000,000 before the last lot is sold in December 2012. This is a collection that will undoubtedly rewrite the book for auction records and bring in collectors from around the globe. The auction catalogues alone will become essential reference materials for every true collector. It is with great pleasure that we share the story of the man behind the collection and the collection itself.  The Chartwell Collection was formed by one man with a great passion for collecting, Sir Cyril Humphrey Cripps. Sir Humphrey, the custodian of the collection, was both a great English businessman and philanthropist, but also an enthusiastic philatelist.
Educated at Northampton Town and County Grammar School, it was during this period that Sir Humphrey first displayed a passion for collecting. After his death, his children found a shoebox in the back of his wardrobe. Upon opening the lid they discovered thousands of train tickets bundled and carefully placed in the box. Sir Humphrey had kept every train ticket from his time at school and kept them hidden away in perfect chronological order. These were memories of his past and a clear indicator of the true collector he would become.
After graduating, Sir Humphrey continued his education at St John's College, Cambridge, where he read Natural Sciences. After completing his education, he joined the family firm, Pianoforte Supplies Limited. However, as we have learned from his family, Sir Humphrey's education was never complete. "Dad had an incredible mind," says Robert Cripps, son of Sir Humphrey. "He had a photographic memory and was constantly absorbing information. He was also a workaholic." His fantastic memory and personal drive would see Sir Humphrey rise to Managing Director of his family's company in 1960 and Chairman in 1979.
Along the way, Sir Humphrey also picked up several other passions. First and foremost, he was a charitable man and at every turn in his business progression he would channel funds regularly into the family charitable foundation. The Cripps Foundation was established in 1956 by the Cripps family and has made huge gifts to universities, colleges, schools, churches, hospitals and museums. Many Cambridge Colleges have benefited from this generosity, as well as the Fitzwilliam Museum. Residential Courts at St John's College, Magdalene College, Selwyn College, Queen's College and the University of Nottingham are named after the Cripps family. His former school also benefitted. The construction of many facilities were made possible through its generous donations. Sir Humphrey was knighted in 1989, having been High Sheriff of Northamptonshire in 1987 and then Deputy Lieutenant of the County. Sir Humphrey began this stamp collection in the 1950s and it was actually his son, Robert, that can be credited for flaming his father's collecting habits. At a very young age, Robert inherited a stamp album from an uncle. The album contained a number of stamps from the 1920s and 1930s and several pieces from George V that peaked Robert's interest. Sir Humphrey indulged his son's new interest and brought him to London where he hoped the interest could become a hobby. Robert shared with us, "I remember Dad and I going to London to visit Stanley Gibbons on the Strand where he bought me a standard catalogue, tweezers, stamp hinges, the works. I came home after that trip and fiddled with the stamps for about a week.
I left them at home in my wardrobe when I returned to school. When I came home around eight months later the album, which I had pretty much forgotten about anyway, was gone. Dad had become a stamp collector."
From that point on Sir Humphrey was insatiable with his collecting. He worked tirelessly to learn all that one could about philately and the marketplace that existed, focusing firstly on Great Britain and The British Empire. Having a photographic memory definitely came in handy at this point. Robert told us that Sir Humphrey "wasn't just driven by monetary value, but was also motivated by the desire to put something together that was a perfect collection." It was his incredible knowledge that would lead Sir Humphrey to enviable purchases such as the moment in 1972 when he bought the finest "Post Office" Mauritius 2d. blue (pictured on previous page) in private hands for £29,000. Apparently, just days after this item was purchased, an offer of £39,000 was made for this item. It was rejected!
Sir Humphrey took great pleasure in this collection over the course of his life and would often come home from work and go straight to his study where he would become absorbed in the collection until he was called to dinner with his family. Such passion for the collection is what made it one of a kind. Sir Humphrey travelled frequently on business and his interest in stamps went with him. For example, Sir Humphrey travelled often to Bermuda and began collecting Perots as a result. He was also fascinated by proofs and seemed to be, often at times, more interested in the proofs than the stamps themselves.
"The collection, made up of both fine rare stamps and proofs so extensive, covering entire reigns at times, it ishard to believe it was all put together by just one dedicated collector."
---
Share this Product
---