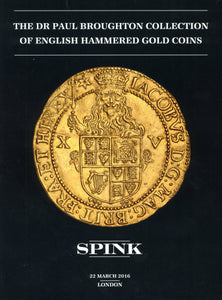 SPINK | BOOKS
The Dr Paul Broughton Collection of English Hammered Gold Coins - 22 March 2016 Spink London
Regular price
£10.00
£0.00
Unit price
per
Tax included.
Shipping
calculated at checkout.
The Dr Paul Broughton Collection of English Hammered Gold Coins - 22 March 2016 Spink London
The collection of English hammered gold coins formed by Dr Paul Broughton is the best collection of its type to be offered in London for some years. This is a series that has seen considerable price increases each year for many years now and it is becoming increasingly difficult to find good quality examples, and when they do appear the prices are very strong. The highlights are certainly the spectacular large denominations, the Sovereigns of Henry VIII, Edward VI, Mary, Elizabeth and James I, and the two Charles I Triple-Unites of 1642 and 1643. The last of these has a British Royal provenance, having been a gift from Edward VII, which is quite exceptional, if not unique, in the numismatic world. There are some delightful coins among the smaller pieces, including the cover coin, the Spur Ryal of James I, and the almost perfect Commonwealth Half-Unite or Double-Crown of 1650.
---
Share this Product
---