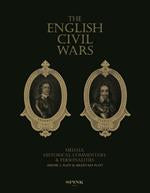 SPINK | BOOKS
The English Civil Wars: Medals, Historical Commentary and Personalities by Platt, J. & A.
Regular price
£175.00
£0.00
Unit price
per
Tax included.
Shipping
calculated at checkout.
The English Civil Wars: Medals, Historical Commentary and Personalities by Platt, J. & A.
Two volumes bound in cloth, gilt embossed, and housed in a slipcase, 808 pp., illustrated throughout
Some three and a half centuries ago, Britain was convulsed by a series of civil wars. The names of its participants and major battles Oliver Cromwell and Charles I, Cavaliers and Roundheads, Edgehill and Dunbar are still well known today. These wars saw the introduction of medals as rewards for gallantry and campaign service. This book places these medals within the historical context of the times.
These volumes will be an essential addition to the libraries of all who have an interest in the medals, personalities and events of the English Civil Wars. Building on earlier works on the subject, it provides detailed information which is indispensable for the collector, numismatist, auction house specialist and Civil War enthusiast as well as for the military or art historian with an interest in the period. The detailed information on over 900 individual medals illustrating over 400 subtypes in both private and public collections, accompanied by more than 500 photographs and illustrations of medals, many in colour, provides an important archival reference source. Assembled from the authors observations over thirty years of collecting and studying the medals of the period, this work places these pieces of history within the historical context of the Civil Wars, the Interregnum and the Restoration. Through historical and biographical commentary on some 100 historical personages, the personalities of the figures of the period come into focus.
Through the use of commentary and over 400 illustrations from the 17th through 19th centuries, we see the personages of the Civil War as did both their contemporaries and those closer in time to the events of the Civil War.
---
Share this Product
---