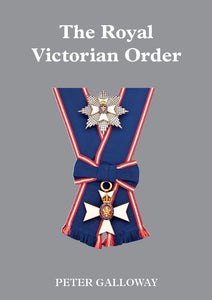 SPINK | BOOKS
The Royal Victorian Order by Galloway, P.
Regular price
£125.00
£0.00
Unit price
per
Tax included.
Shipping
calculated at checkout.
The Royal Victorian Order by Galloway, P. 
Hardback, casebound, dust jacket, 1007 pages, illustrated throughout in colour
The Royal Victorian Order is one of the less well-known components of the United Kingdom honours system. From its creation in 1896 it has been conferred specifically for service to the Sovereign and to other members of the Royal Family, and entirely at the discretion of the reigning monarch. The history of this Order and its Insignia, and its beautiful Chapel in the Precinct of the Savoy in London, is told here in full for the first time. It begins with an account of the long-forgotten Hanoverian Guelphic Order, which in many ways was a precursor to the Victorian Order. It recounts the first tentative proposals of Queen Victoria in the 1840s to establish a replacement for the Guelphic Order, a hope that did not come to fruition for another fifty years. The author has been allowed access to relevant official archives and expertly tells the story of this honour and the diversity of service rendered to the Royal Family. The book includes a chapter on the Order's insignia and three chapters on The Queen's Chapel of the Savoy – one of the least-known of the royal chapels. Compared with other honours degradation from the Victorian Order has been a rare occurrence, but the author includes a chapter on the few individuals whose behaviour was such as to leave no other possibility. The book concludes with an appendix listing all the substantive appointments – from 1896 to 2016 – to this most personal and most valued of royal Orders.
Peter Galloway is a graduate in history of Goldsmiths College, London. Postgraduate research at king's College, London, led to the award of a PhD in 1987. After training at ST Stephen's House Oxford, he was ordained in 1983. He was appointed an OBE in 1996 and was awarded the degree of DLitt by Brunel University in 2009 in recognition of his service to the national community and his outstanding scholarly achievement in his research on the state honours of the United Kingdom. He has been Chaplain of the Queen's Chapel of the Savoy and of the Royal Victorian Order since 2008
---
Share this Product
---