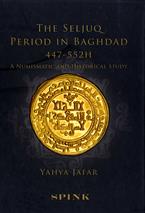 SPINK | BOOKS
The Seljuq Period in Baghdad 447-552H by Jafar, Y.
Regular price
£50.00
£0.00
Unit price
per
Tax included.
Shipping
calculated at checkout.
The Seljuq Period in Baghdad 447-552H by Jafar, Y.
This work attempts to present the coinage of the Seljuqs struck in Iraq, notably Madinat al-Salam, and to link it to the events of that period; starting with the entry of the Seljuqs in Baghdad in 447h and continuing until their expulsion from there in 552h. In many ways these coins closely reflect the events reported in the chronicles, which show the precarious relationships between the various Sultans and Abbasid caliphs during this period.
Being the seat of the Abbasid dynasty, Madinat al-Salam is uniquely important and so the coins struck there have a particular signficance also. As far as I am aware, many of these - including examples shown in this study - are hitherto unpublished. Moreover, much of this rich numismatic information can perform a valuable service in confirming, interpreting or correcting historical accounts that various historians have sometimes presented dfferently. Of special signifance here is the information which can be deduced from some of these coins about the changing nature of the relationships between the Abbasid caliphs and the Seljuq sultans.
In English and Arabic, with 12 plates.
---
Share this Product
---