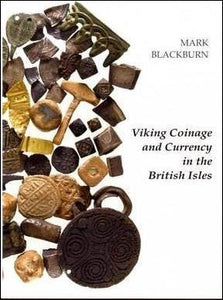 SPINK | BOOKS
Viking Coinage and Currency in the British Isles | British Numismatic Society Special Publication No. 7 by Mark Blackburn
Regular price
£10.00
Sale price
£48.00
Unit price
per
Tax included.
Shipping
calculated at checkout.
Viking Coinage and Currency in the British Isles | British Numismatic Society Special Publication No. 7 by Mark Blackburn


Paperback edition, 2019. xii + 416 pp.
ISBN 978-1-907427-05-3
For more than three decades the late Dr Mark Blackburn (1953−2011) was one of the leading authorities on the monetary history of Britain, Ireland and Scandinavia in the early Middle Ages. This volume brings together fifteen of his papers on the theme of Vikings and their currency in the British Isles, from the dual monetary and bullion economy that emerged after the Scandinavian raids and conquests of the ninth century, to the establishment of dynamic new coinages by Viking rulers. Among them is a previously unpublished study of over 1,000 coins and other metallic objects associated with the winter camp at Torksey set up the Viking Great Army in 872−3.
---
Share this Product
---