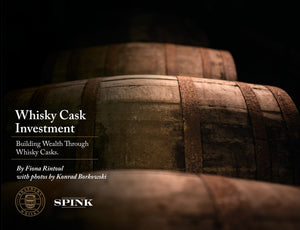 SPINK | BOOKS
Whisky Cask Investment: Building Wealth Through Whisky Casks by Fiona Rintoul (downloadable PDF)
Regular price
£24.00
£0.00
Unit price
per
Tax included.
Shipping
calculated at checkout.
Enter the wonderful world of whisky casks, to learn about a unique investment opportunity.
We are in the grip of the greatest period of uncertainty since the 2008 financial crash. Volatility is rocking global financial markets, and inflation is back with a vengeance. Investors are seeking capital preservation and stable returns. Whisky casks can provide both.
Two unique attributes make whisky casks different from the other safe-haven assets. Whisky casks automatically appreciate in value as time passes because the spirit within them becomes more precious as it matures – and you can curate your own whisky cask to maximise your returns. Add to that supply constraints, deep heritage and a booming market that has been unaffected by Covid-19 and geopolitical tensions, and you have an uncorrelated investment that can offer stable annual returns of 10-12% and a hedge against rising inflation.
This book tells you everything you need to know to start investing in whisky casks. It uncovers the history of whisky cask investment and explains how to choose and curate your cask, highlighting the factors to consider when creating a portfolio of casks.
With cask prices starting at around £1,500, whisky cask investment is open to almost everyone. It provides an enjoyable way to diversify your investment portfolio in uncertain times with the promise of outstanding returns. Unlock the door to a new investment that could revolutionise your personal finances – with a few tasty drams along the way.
Fiona Rintoul is a writer and translator based in Scotland. She is the author of The Leipzig Affair, which was shortlisted in the Saltire awards and serialised on BBC R4's Book at Bedtime, and Whisky Island, which was shortlisted in the Fortnum & Mason food and drink awards. A former Times columnist, she worked as a financial journalist before becoming a full-time author.
---
Share this Product
---